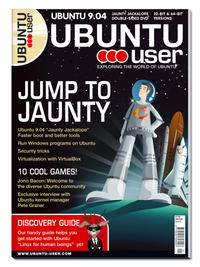 When I'm travelling, I often visit the kiosks at the airport, to see what they have of intresting magazines, specially Linux and Digital Photography magazines. I was visiting Trondheim last weekend, and on the way back, while I were waiting for my plane back to Bergen, I was looking on the shelves at Narvesen at Trondheim airport, Værnes. There were actually a quite good choice of Linux magazines, and one specially catched my eye. I had heard about the new Ubuntu User magazine at the Ubuntu UK podcast, which by the way is a pretty good podcast. But I didn't expect to find it in a news-stand in Norway, I thought I had to order it from the UK.
So I bought it.
The magazine was priced to around £7, which would translate to about 74 norwegian kroner, or €8.20. But at when I got to the counter, I had to pay 210 NOK for it, which is about £19 or €23. In comparison, one years subscription to the magazine is €29.90 if you live in Europe outside the UK, which would include Norway. €29.90 is 269NOK or £25.5
This is a total rip-off. I understand that Narvesen needs a margin for magazines with a narrow group of readers, but this pricing is insane.